Professional Liquid Scintillation (LS)
RAdata was the first licensed Radon Measurement Business in the State of New Jersey. Currently, over 250 local NJ home inspectors and NJ radon measurement professionals trust RAdata. In addition to our local customers, we serve over 2000 nationwide commercial customers including home inspectors, radon measurement professionals, and State and local Health Departments.
RAdata is a certified Analytical Laboratory with the AARST-NRPP National Radon Proficiency Program, ID# 101196AL. In addition to our National certification, we are also certified with State Radon Programs where applicable.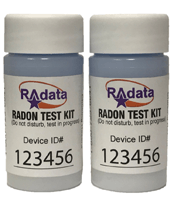 Short-Term Radon Test Device
The exposure period for this device is 48-96 hours
For use in 48 states (not for use in West Virginia or New Jersey)
1 year shelf life
Each device contains 2 grams of carbon and a desiccant to remove moisture from humidity
Average Product Weight: 20 grams
Includes test device, instructions, chain of custody, laboratory analysis, return packaging, and state fees (where applicable)
Lower Limit of Detection: <0.2 pCi/L
Available in single, double and bulk packaging
Available with or without prepaid return service (USPS Business Reply Mail Postage labels or UPS Ground labels)
Test results available online 24/7 (with approximately 6 months of online storage of your prior test reports)
Same Day and Next Business Day results (depending on time of receipt)
Environmentally friendly material recycling